#WeLoveRM
Meet HQ plus
The team behind HQ revenue: "In it for the revenue".

Hotel nerds in marketing, hospitality people in support, travel techies in software development, data voyagers in the data science team and revenue management experts at the interface to our customers.

HQ plus is revenue excellence by hoteliers for hoteliers.
Revenue Management + Market Intelligence =
Revenue Excellence
HQ plus - the company behind HQ revenue - is a team of hoteliers, software developers and data scientists. As hoteliers, we know what hoteliers need: We know the processes, the market, the pressures.
As Data Scientists, we know how to get the most out of the data.
As software nerds, we created an app out of it.
100% Hospitality
From hoteliers for hoteliers - we know the industry, its processes, its needs from our own experience - our own roots lie deep in the hotel industry. And are extremely gnarled. So the rest can rock agilely and won't be blown away.
100% Peoples' Business
HQ Plus is a peoples' business. Just as the hospitality industry itself. We know: Every app, every digital technology and all the data science we do is only as great as the benefit we – the humans – can get from it.
100% Independent
HQ plus is completely independent. There are no external investors, no exclusive partnerships. Our business model has been self-sustaining since day 1. That makes us not only proud, but also quite successful.
---
What makes HQ revenue special
---
100% Customizable
Adapt the tool to the workflow. Not the other way.
100% Customizable
Smart View
The really relevant information is just one click away.
Smart View
Parity under control
All channels and their faux pas at a glance.
Parity under control
The future is now
See months in advance how the market will develop.
The future is now
Understanding demand
At the local or regional level: Who is coming? And when?
Understanding demand
Understand competition
And strengthen your own position with real insights.
Understand competition
How it started ...
... and how it went:
1998 – 2006
Foundation work
Founder & CEO Roland Hehn accidentally lands in the hotel industry and takes over one hotel each in 1998 and 2006. During this time, the industry undergoes a major transformation: HRS and hotel.de enter the market.

This data, which is now publicly available, should actually be better analyzed for hoteliers: As a hotelier, Roland was always faced with the challenge of knowing what rates competitors were offering in the market, what events were taking place in Berlin, and how to get this information as quickly as possible so he could adjust his rates accordingly.

The idea behind HQ plus was born out of daily practice and implemented in the beverage warehouse. In the beverage warehouse?! Yes, exactly. In the blog Roland and Sven tell the whole story.
2007
Launch HQ revenue 1.0
With the core functions of HQ revenue: Rate Shopping and the Smart View.
2020
> 60 Integrations
Over 60 integrations, over 30 channels ... HQ revenue is optimally integrated!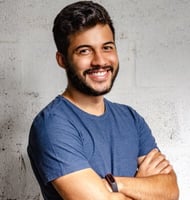 2022
GRANT
In times of declining print circulation, digitization, global networking, we decided to make a magazine. A magazine?
Yes, something with a tactile feel, something you can touch.
Isn't that completely ... bonkers?
Nope. In the meantime, GRANT has become an integral part of HQ revenue and hotelcampus - and we haven't even reached the end of the development yet! Hotel and revenue management experts like Ira Vouk, Bianca Spalteholz, Anna Heuer, Svenja Kassner, Ivan Abakumov, Francesc Gonzales or Stephan Kohl write on revenue management topics like positioning, market intelligence, PMS integration, hotel digitalization, brand building and much more. Some highlights find their way to the GRANT Blog. Fancy a printed version? Find it here :)
2023
hotelcampus
Hotelcampus, a new brand of HQ plus, saw the light of day just in time for ITB 2023. Under the umbrella of hotelcampus we bundle education, networking and partnerships: eLearnings and webinars on HQ revenue and all topics around revenue management, events like barcamps and meetups, always together with exciting partners from the HQ revenue environment. Together we demonstrate and discuss integrations, software development, user experience and the digitalization of hospitality. With you. Because even though HQ plus is already damn good on its own - we can only get even better together!
Watch: hotelcampus @ ITB23 recap.
Huhu!
The team behind HQ revenue
Who is missing? Exactly - you!
Let's change that right now, please.
Our colleagues at u:fynd are looking forward to your message!
Not only cool, but also important
Partnerships
Together we are even much better! Our valuable partnerships: